Living near Oxford I have been in several of the colleges, all beautiful old buildings with a fascinating history and historic libraries. I have often wondered what the colleges are like in Cambridge so Ros and I went for a few days to have a look.
The most beautiful building is King's College Chapel where we attended evensong. The chapel, built between 1446 and 1515, is a splendid example of late perpendicular gothic English architecture and has a splendid fan vaulted roof.
I do not remember seeing any sundials at King's but there is a clock with 4 dials in the tower over the gatehouse.
Another college, Corpus Christi, has a unique clock, designed by John C. Taylor and installed on an exterior wall of the college's Taylor library in 2008.
The clock has a grasshopper escapement and the time display is by blue LED's set in the large gilt dial.  This is an unusual clock but there is a book The Corpus clock by Christopher de Hamel which explains how it works.  
Pembroke College has an interesting modern sundial on an exterior wall, visible from Tennis Court Road.
The dial has an equation of time graph built on so you can covert solar time to mean time.
As you can see it was a nice sunny day when we visited, the dial shows the time as just after 2 pm (solar time).
On the return journey we called at a National Trust property – Canons Ashby – in Northamptonshire.
In the grounds of the house there is a lovely old horizontal sundial by Richard Glynne, London.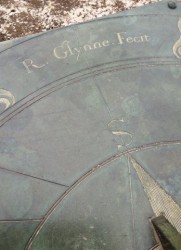 The dial dates from the first quarter of the eighteenth century and is in very good condition so still usable.
Sadly it was a dull day when we visited so the dial was not telling the time!
Happy days!